Back to top
Facebook Bans Make New Zealand Great Again for "Hate Speech"
Just over a month ago, on the 22nd of September, Facebook suspended the Make New Zealand Great Again page for "hate speech". There is of course, no real way to appeal such a decision and no way to get in touch with a real person at Facebook who can do something about it. Two days later, there was another notification: the page had been completely deleted from Facebook for violation of their community standards. So what did we post that was so offensive and hateful?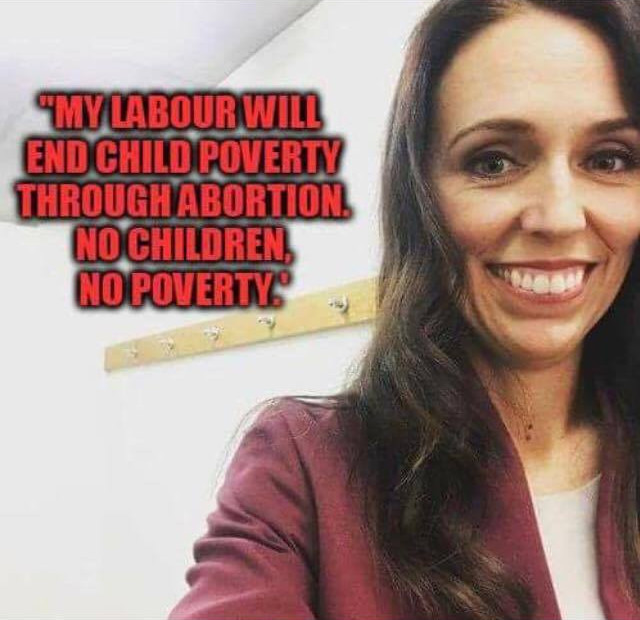 That's right comrades, a little meme about Jacinda's abortion policy.
The main reason I hadn't written a post about this earlier is because I got an email from the Advertising Standards Authority (ASA) that a complaint against me had been lodged. I didn't post the meme or pay for the promotion, but I was the point of contact. As anyone who manages a Facebook page knows, they don't show your posts to very many people unless you hand over some cash, which as we learnt, puts your afoul of advertising laws in New Zealand. I informed the ASA that I hadn't paid for the advertisement and couldn't provide them with any extra information because Facebook had deleted the page. That wasn't good enough and eventually they upheld the complaint and embargoed the decision until today, 26th October.
The Chair directed the Complaints Board to consider the advertisement with reference to Basic Principle 4 and Rules 2 and 11 of the Code of Ethics. This required the Complaints Board to consider whether the advertisement contained any statement or visual presentation or created an overall impression which directly or by implication, omission, ambiguity or exaggerated claim was misleading or deceptive, was likely to deceive or mislead the consumer, made false and misleading representation, abused the trust of the consumer or exploited his/her lack of experience or knowledge. (Obvious hyperbole, identifiable as such, is not considered to be misleading).

...

The Complaints Board said the advertisement was likely to mislead and people could think that the statement was a quote from Jacinda Ardern.
Since Facebook had already shut us down, we didn't bother to fight the complaint, nor am I confident that we could have explained to the Complaints Board that the meme was "obvious hyperbole" or that "the consumer" (voter) would have sufficient "experience or knowledge" to determine that the quote was a joke.
This brings us to something far more interesting, and sinister. In the official decision by the ASA there is a record of some correspondence with Facebook staff.
Facebook responded to the ASA query stating that "the content does not violate our policies."
That's right. They shut us down, lied, and then provided no way for an appeal or recovery.